More info
Developed and patented by Yanks Mannequins, the MSA02 model has been specially developed to fit vintage uniforms and costumes, particularly regarding the posture, the shoulder width, and the waist, thigh and calves circumferences.
(Note: the uniforms and accessories as seen in the pictures are not included with the mannequin purchase)
Features:
Flesh color tone.

Hand painted face with a very light 5 o'clock light shadow and sharper face outlines.

Thermoformable plastic hands (finger moderately bendable by immersion in hot water).

Articulated shoulders allowing the arm to slightly swing.

Two-part removable-detachable feet to facilitate the insertion and the display of regular or very small size footwear such as German jackboots.

Rotating hands.
Dimensions :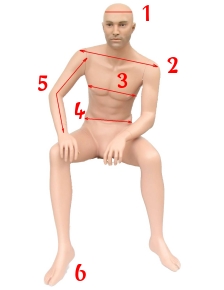 1 : Head girth : 21 in. (54 cm)

= hat size SMALL (S) 6 ¾ - 6 ⅞ and up.



2 : Shoulders width : 17 in. (

44 cm)



3 : Chest measurement : 35 in. (

90 cm)



4 : Hip measurement : 32.5 in. (

82 cm)



5: Arm length : 23 in. (

60 cm) or US shirt size 32



6: Shoes/Boots size: as small as US 7 (

or Europe size 40)

7: Small neck Size : 14.5 inches (37 cm)